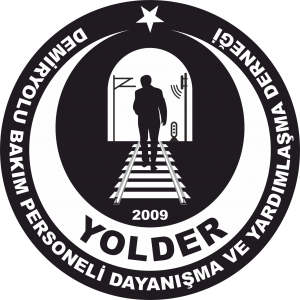 Our Association (The Association for Solidarity and Assistance to Railway Contruction and Operation Personnel, YOLDER) was established at 29 July 2009 in Izmir by Permanent Way Section Chief Özden Polat. YOLDER, today, is a Non Govermental Organization which has more than 700 members who work on railway construction, maintanence and repair for TCDD.
YOLDER aims to find acceptable solutions for vocational problems of TCDD's and other railed system's track construction and maintanence personnel. To provide exchanging of information, solidarity and mutualisation between members. To forward the problems of members to the related authorities and take legal actions. Our association also provides some improvements about personel rights of its employees.
YOLDER communucates and connects with its members through the agency of Central Office (It is located in Izmir/Turkey) and with total 40 representatives, work at TCDD's 7 different Regional Directorates accross Turkey.
OUR GOALS:
YOLDER believes that very similarly developed countries, if the rules, standarts and fundemental freedoms can be dominant over social life, then, it can be easier to reach more healthy social society in Turkey. Only then, the people in Turkey can be happy and our society can be healthier. For this goal, our association is ready to do its duties as a non govermental organisation.
To cooperate with any national and international institutions and establishments to increase awareness of our profession in society is one of our goals. To reach this aim requires to create or transfer international standarts and rules of this profession. Our studies continues to develop new EU projects.
PICTURE OF FUTURE:
YOLDER produces services to increase vocational improvements of track construction and maintanence employees of railed systems, to raise awareness of this profession and also try to set up an international certification system for this profession.
YOLDER, at the same time, continues to prepare and develop educational programs for formal and informal educational modes to the track construction and maintanence employess.
Our Association, in harmony with European Qualification framework, conducts studies with its shareholders in the sector to prepare national vocational qualifications of Railway construction and maintanence personnel (Level 3-5 and 6) Railway Line Controller (Level 4) Aluminothermic Rail Welder and Rail Arc Welder (Level 4) . To prepare training programs according to national vocational standarts and to certificate our members accordingly these national vocational standarts are also our goals.
With these studies, it is aimed to reach European Standarts in this spesific field , furthermore, to provide the validation of these certificates accross EU is our main goal.